The Easiest, Reliable And Quickest Way To Sell An Unwanted
CAR, JEEP, TRUCK, VAN AND UTE.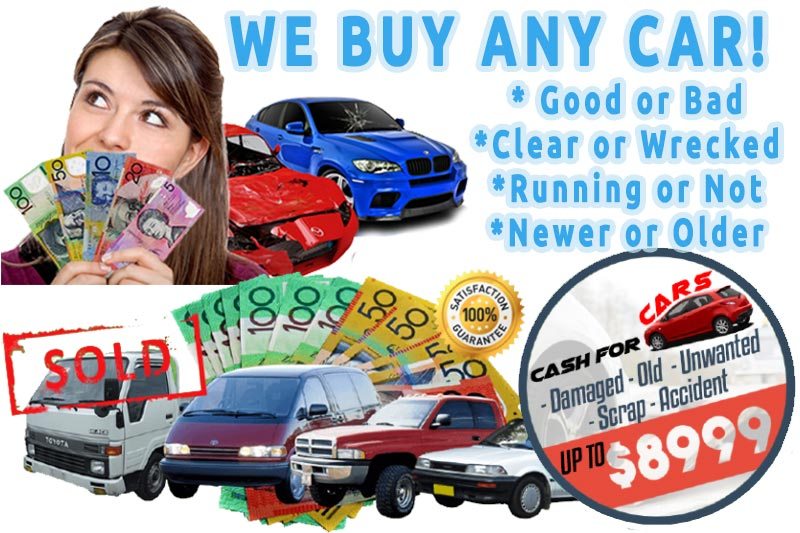 Sina Car Removals is a vehicle recycling small business founded in Western Australia, which provides free removal and instant compensation for all kinds of automobile. We will pay top cash for cars anywhere in Perth!
We offer towing facilities, which aid clients in getting rid of old and unsolicited cars. We either can give you instant cash or can transfer cash into your bank account, as per your convenience.
Contact us on 0488 488 302 if you want to do away with your ancient, dented, or scrap car. You can also visit us on our junkyards and take the process further.
Where to find you? Our small business is a reliable and extremely well-known scrap car pick-up solutions and has an office at Welshpool, WA. We are fully experienced in procurement and towing of automobiles.
We offer free vehicle pickup anywhere in the areas of Perth-
Northern Suburbs – Wangara, Morley, Joondalup, Malaga, etc.
Eastern Suburbs - Redcliffe, Guildford, Forrestfield, Midland, Ellenbrook, etc.

Southern Suburbs - Mandurah, Rockingham, Fremantle, Maddington, etc.
We Pay good value For Automobile In Perth!
If you are meaning to do away with the car, just taking up space in your garage then you have come at the right place. No matter whether the vehicle is running or not, call us today and get instant cast in exchange for your car. All you are required to do is give us a call and ask for an online instant quote form.
Get Good Money For your damaged Automobile
We can offer you good money even for damaged vehicles and worn-out vehicles Moreover, we are here to ensure that the vehicle is recycled suitably. Do not just let your car sit and collect dust, hen you can make some money out of it. You just need to give us a call and just sit back and relax, while we are in charge of your car removal. After your vehicle removal, we will dispose of your vehicle in a timely and eco-friendly setting.
Also, the good news is that there is no towing fee involved in the removal of your vehicle. All the vehicle pickup services are free, and you will get the top cash on the spot!
Are you looking for spare parts for your vehicle?
No problem, we also provide spare parts for your vehicle.
Our features -
Free quotation - The good news is that you can request a completely free estimation through our website or through a call. Our representatives will call you and schedule an appointment to come and access your vehicle.
No stress – After contacting us, your job is over, as we will look after everything. We will take care of all the paperwork and will also tow your vehicle irrespective of the location of your vehicle. We will take your vehicle at an auto-recycling centre to recycle it.
Fast service – Our customer care executives will contact you shortly and decide a time on which they can visit you. They will come fully prepared with a tow truck, full legal paperwork and remove the vehicle in no time, after giving you the cash.
We are known to offer good money For vehicles
Perth!
So, don't wait any longer and get fast cash for vehicles today. Moreover, you will get a free removal from any location within Perth. We purchase:
Cast-off Vehicles

Unregistered Vehicles

Damaged Vehicles

Old Vehicles

Cash for scrap Vehicles

Scrap Vehicles

Broken Vehicles

Unsolicited Vehicles

Second-Hand Vehicles

Written Off Vehicles
You should go with us because we are one of the most well known car removal services out there and are also the most esteemed and expert car wrecker business in Perth. We offer instant cash on the spot in the exchange of the rusted old car together with the free of cost tow service. So, contact us today if you want some easy cash in the exchange for your unused damaged vehicle. You can get up to $10,000 for a car, which you no longer use.
The whole process, right from getting the free quote to towing your vehicle is extremely fast and opportune. While dealing with us, you won't have to take time off from your work to meet with our experts, as you can contact us10 hours a day, 6 days a week and make sure that you schedule an appointment according to your needs.
We are specialists in scrap pickups of any automobile and provide the best services to our clients!
Please make sure that you have all the below things ready before we come to pick away your vehicle -
Your photo ID. You need not be the owner of the vehicle.

Ensure that the pathway to the automobile is clear, so that we can easily take the car for towing.

Remove the license plates from your vehicle.

We have earlier also taken unlicensed and unregistered cars in Perth, so there is no need to worry.
Although the majority of the times we buy some or the kinds of damaged, scrap, unwanted, used, etc., but, that by no means mean that we don't buy new vehicles or the vehicles that are in a good condition. We buy these new vehicles, because although new, these vehicles are sometimes hard to sell. Moreover, at times, the owners do not have the time to advertise and sell these vehicles.
It should be noted that we do not resell the vehicles however we buy the vehicles from you to recycle them and sell their spare parts.
Wrecking your vehicle
We have a team of the finest scrap yard specialists in Perth, comprising the most skilled auto dismantlers in the business who start their work as soon as a new vehicle is bought in.
Our team starts by removing all the scrap parts from your vehicle, and this is done until everything gets bare. After taking out everything, your vehicle is crushed, which results in scrap metal from the frame.
Later, we recycle prior to reselling certain constituents, parts, and scrap metals out of the car. That is why you can make money even from a junk piece. That's why our free scrap car service is the best in town, and you will also make the best money for your cars in Perth.
In order to know more about how scrap is taken out of your used cars or to get more information, visit our office today!
Cash For Car
Why us? Our services are the most suitable option when you are looking to get rid of your unwanted or scrap vehicle. Our process for selling a scrap vehicle is extremely easy, and this is because of the following reasons -
No hidden charges – As soon as we get a call from your side, we will send you a free quote. The whole process will be completely free for you, therefore, you don't have to worry about any hidden charges anywhere.
Fast service – All our customers are very important for us and as we work 6 days a week, the process from sending the quote to towing of your vehicle would be extremely smooth and fast.
Eco-Friendly – Our work by no means harm the environment.
Easy process – Sit back and relax. We will handle everything as we are covered, certified and take care of all the paperwork.
100% Free Vehicles Pickup!
If you need a proficient, reputable and knowledgeable car pickup Perth, then you have come to the right place, as we will offer you the best price. Selling a junk car with us is extremely easy and you will get the best value of your car with us.  We will pay you hard cash for your unused vehicle; therefore, you will get the best prices with us.
All vehicle pickups done by us are completely free of cost for the seller. Before towing away your vehicle, we give you the exact price that you will get if you decide to sell the vehicle to us.
No matter whether your old car is BMW, Mercedes-Benz, Toyota, Fiat, Audi, Nissan, Honda or Isuzu; our removal service will always welcome it.
We always want to offer a fast and suitable removal for an old and unsolicited car removal Perth. When selling through us, there is no need to cancel your prior appointments for contacting us, as our team is available 24 hours and you can always schedule a time that is best for you.
What Our Customers Have to Say:
"It was a nice experience to do business with this company."

We are completely satisfied with the readiness and attention with which they respond to our queries and demands.

"My service with SinaCarRemovals.com.au has been well."

​I am pleased and expect the same service from you again. Good Luck Guys and Girls.